Endorsements
Schroder Ditch Board Member
Phyllis Ludwig
La Plata County Commissioner, District 3
Julie Westendorff
Past Mayor of Bayfield
Dr Rick Smith
La Plata County Business Owner
Ashleigh Tarkington
Business Owner, Ex Chair La Plata County Economic Development Alliance
Mitch Dye
Parent, Teacher, Resident 20+ years, Former 9-R School Board member
Stephanie Moran
La Plata County Resident 40+ years
David Black
Retired Lawyer
Carol Cure
Affordable Housing Property Manager
Amanda Robinette
Commander American Legion Post 143
Tony Schrier
ADA Advocate
Bruce Stultz
Healthcare Durango
Guinn Unger
---
"
Matt has proven that he has what it takes to be a great county commissioner.
La Plata County Business Owner
Aurora Peters
Farmer, Rancher, Banker
Jameson Bobbin
---
"
I have worked with Matt in various capacities over the last five years and he is engaged, efficient and understands the important topics in the County.
La Plata County Business Owner
Sheldon Swindell
La Plata County Business Owner
Dennis & Amanda Martin
Retired Teacher
Laura Godfrey
---
"
Matt has really impressed me with his depth of knowledge about county issues - and he has ideas for Solutions! We need a younger person as CC who understands first hand the challenges young people face in building careers and homes here.
---
"
Conservation Colorado is excited to endorse Matt Salka for Commissioner for La Plata County Commissioner. He's proven to be a collaborator as Bayfield Mayor and has a commitment to protecting lands, air, water and communities in Southwestern Colorado. #Salka2020 #COpolitics #endorsement
Editorial Board
---
"
In the race for La Plata County commissioner in District 3, one candidate stands out for his multiple leadership roles in his community. Matt Salka has played a major role in improving Bayfield's future and knows county-wide economic development. The board likes Salka for commissioner in District 3.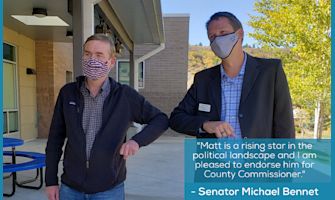 Senator Michael Bennet
---
"
We need the type of fresh young perspective in government that Matt represents. Matt Salka was a successful Mayor for the town of Bayfield working on several improvements and important technology upgrades for the town. Matt is a rising star in the political landscape and I am pleased to endorse him for La Plata County Commissioner.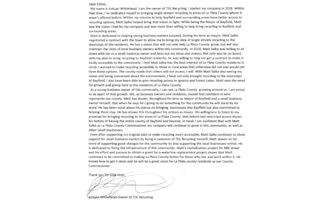 Owner TDL Recycling
Antuan Whitehead
---
"
Matt has shown, throughout his time as Mayor of Bayfield and a small business owner himself, that when he says he's going to do something for the community he will stand by his word. I also have been able to give recycling access to Ignacio and Forest Lakes. Matt sees the need for growth and giving back to the residents of La Plata County. I am confident that with Matt Salka as La Plata County Commissioner my company will continue to grow in this community, as well as other small businesses.